Först vill vi presentera vinnaren av vår förra utmaning som var att göra ett pastelligt kort som är sponsrat av
Kreativ Hobby.
Time for a delayed announcement for the winner of our pastel challenge sponsored by Kreativ Hobby!
Our biggest congratulations to Stephi for her beautiful card with such an important message - take time.
Please contact us at artsyteam@gmail.com in order for us to send you your prize!
Över till vårt tema för artikeln!
Denna gång har vi satt tänderna i metall! Nej, inte bokstavligen som tur är.
Metall är ett ganska vitt tema. Vi kan välja att använda aluminiumfolie eller tejp från exempelvis Biltema, de säljer nog ganska bra av den och inte nödvändigtvis till vad det som var tänkt! Det finns ju dessutom härliga metallark i massor av färger.
Färga med alcohol ink eller akrylfärg, kanske efter att du har präglat det med något av alla intressanta verktyg som finns. Det finns mängder av handverktyg jag skulle vilja prova på. Stämpla på det eller embossa, både torr och värmeembossing passar ju bra! Varför inte stansa i det? Metall i olika färger och patineringsgrad kan verkligen förhöja ett kort.
Är du sparsam och/eller rädd om miljön funkar det alldeles utmärkt att använda sig av metallen i exempelvis läskburkar. Och metall finns ju inte bara i ark, varför inte använda wire!
This time we put our teeth in metal! No, luckily not literally .
Metal as a theme is quite broad. We can choose to use aluminium foil or different tapes found in hardware store and of course there are scrumptious metal sheets in lots of colours.
You can colour with alco ink and/or acrylic paint maybe after embossing with all the different hand tools that are available. There are loads that I personally would like to try out. Stamp on the metal, emboss it, either dry or heat embossing works fine! Why not punch it? Metal in different colours and patina can really put that something extra on a card.
If you are frugal and/or concerned about the environment, use soda cans, it works like a charm. Oh, don't forget the metal charms! And If you widen your horizon you might descover wire, there are lots of things you can do with wire.
You must be quite curious in our cards by now? With no further ado...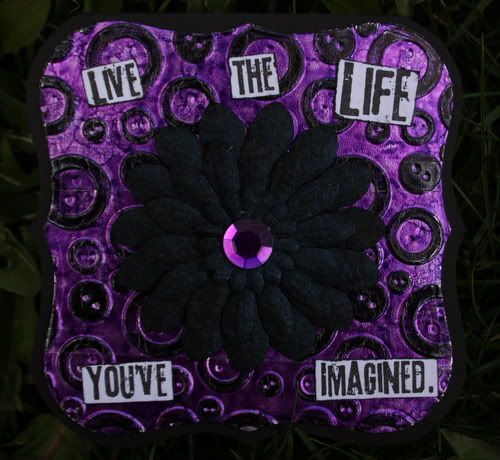 Embossed metal tape coloured with alco ink.
Embossed copper and a butterfly in metal tape.
Black metal was dry embossed. The background panel is
made with metal tape, alco ink and stamps.
Metal was dry embossed and sanded. Panels were painted with Lumiere.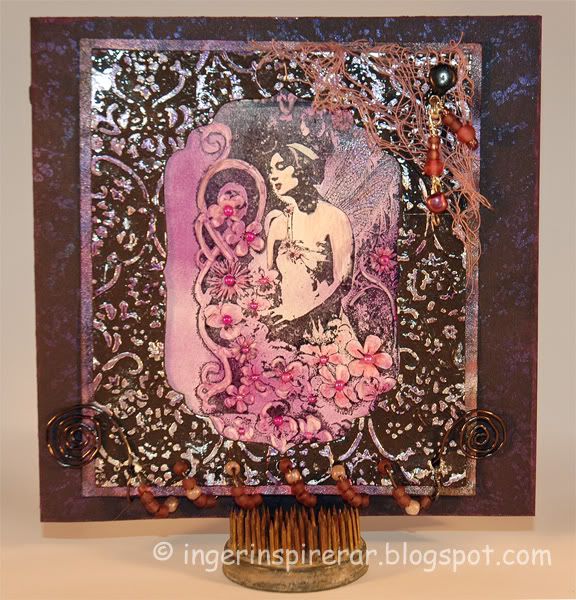 Metal tape embossed, painted and sanded. Metal wire wired with beads. Pearl ex.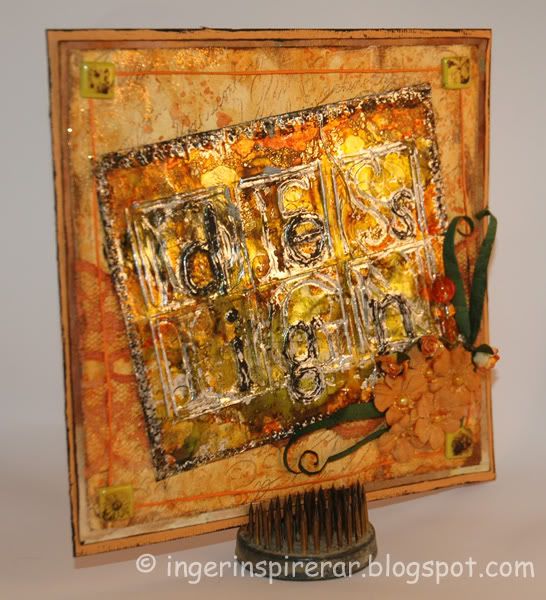 Alco inked and heated metal. Stamped and embossed from the backside,
filled with gesso to maintain shape. The stamps says design.
Nu vill vi se hur DU har använt metall!
Now we've shown our work. Time to show yours!